Fake warnings and alerts are haunting some Microsoft Edge users with sticky pop-up alerts. These pop-ups may vary from simple software endorsements up to a highly fraudulent phone support scam. One thing that terribly affects web browsers is the malware's ability to alter Microsoft Edge settings that make fake warnings show up as a default page or tab. The malware also freezes the current window to prevent users from navigating away from the page. This is technically not a virus infection, but rather a script on the fake Microsoft Edge web page that supersedes the current browser configuration.
Microsoft Edge users and fake warnings
Here are some excerpts from Microsoft Edge users claiming to have fake alerts and warnings that have frozen the browser:
I have tried everything and ran Windows Defender. It could not detect any faults or malware virus at all but Microsoft edge is still frozen. I managed to get on Google and ran Malwarebytes and other programs but nothing would remove it…

I am new to Windows 10, and Microsoft Edge has been my go to browser. With school starting soon I have no idea what to do. This image is a screenshot of what happens every time I open up Microsoft Edge. You can hit the OK button but it does nothing, I cannot even access the settings in Microsoft Edge. The only way to close the browser is to use task manager…

Dealing with Microsoft Edge fake warnings
Even though this fake alert from Microsoft Edge is not caused by a computer virus infection, this occurrence can lead to scamming, especially if online users are lured to communicate with the attackers using toll-free or paid online support services. In addition, some victims claim that fake Microsoft Edge warnings are misguiding them to download a rogue application.
To help you with this kind of trouble, we have provided simple procedures below. The guide will help you close the fake Microsoft Edge warning and keep it out of the browser permanently.
Guide to Remove Fake Warnings and Alerts from Microsoft Edge Browser
There are several options for these procedures that you can execute to resolve the problems with your computer and Edge browser.
Quick Fix - Scan the PC with Combo Cleaner for Windows
Combo Cleaner is a trusted PC security and optimization tool equipped with powerful virus and malware detection engine. This program can get rid of browser hijacker, adware, and malware.
1. Download the application from the following page:
2. Save the file to your preferred location.
3. Double-click the downloaded file CCSetup.exe and install with the default settings.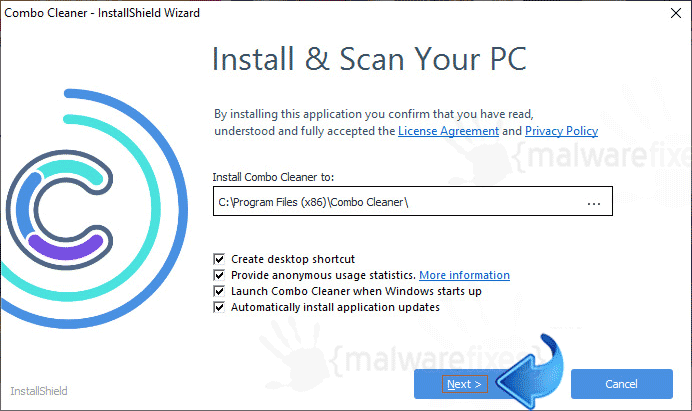 4. At the end of the setup process, click Finish to run Combo Cleaner.
5. The tool will update the signature file, please wait for this process to complete.
6. To begin checking for threats like browser hijacker, adware, and malware, click on the Start Scan button. Wait for this scan to finish.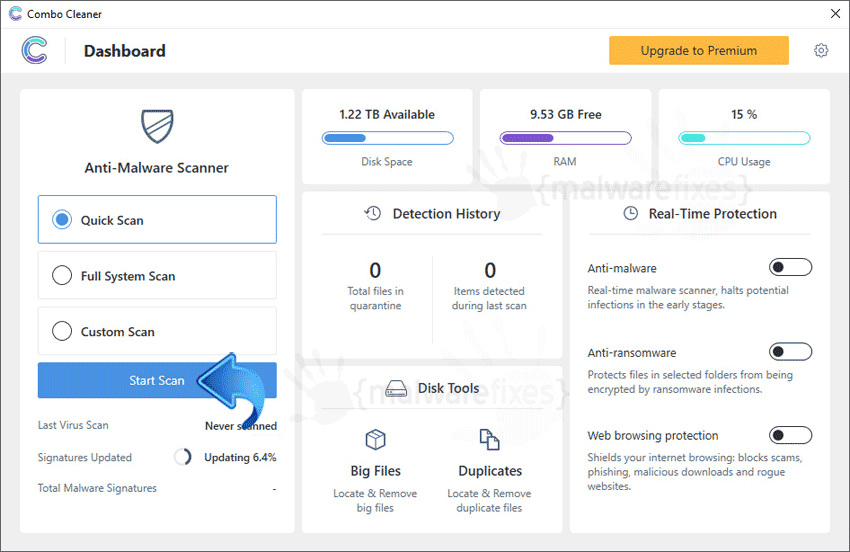 7. At the end of the scan process, click on Remove all threats to delete threats including all malicious objects from the computer.
Free features of Combo Cleaner for Windows includes Disk Cleaner, Big Files finder, Duplicate files finder, and Uninstaller. To use antivirus, privacy scanner, and to delete identified threats, users have to upgrade to a premium version.
Please continue with the succeeding removal procedures if your are comfortable to manually get rid of the threat and malicious items linked with it.
Option 1: Disconnect Computer from the Internet
To be able to process the loop when hijacking your home page or tabs, malware constantly communicates with its server. This also gives the hijacker the ability to execute whatever script is used for the loop. Thus, you must cease the communication between Microsoft Edge and the remote malware server.
1. Unplug your Ethernet or LAN connector if you are on a wired network.
2. Turn off your Wi-Fi Modem or Disconnect your if your Wireless access PC is connected on a wireless network.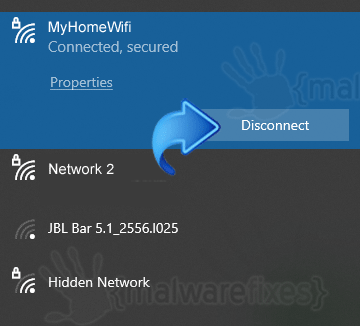 3. Close Microsoft Edge browser. If this is not possible, repeatedly hit Esc on the keyboard or click OK/Cancel button on the hijacker window.
4. Activate Airplane mode.
a. Click your Network/Internet Settings icon on the taskbar (bottom right of your screen).
b. Settings window will open. Choose Network and Internet.
c. Look at the bottom row and click on Airplane mode.
d. Click on the button to Turn on Airplane mode.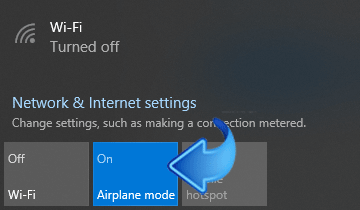 5. Launch Microsoft Edge Browser and close the offending tab.
6. After going through these process, you also need to clear Microsoft Edge browsing data. See complete procedures below.
Option 2: Directly Open Favorite Links on Edge Browser
1. Restart Windows computer (do not open Microsoft Edge browser).
2. Go to your Favorites folder. Typically, it is on this location:
C:\Users\[Your Username]\Favorites\
3. Under the Favorites folder, double-click on any URL and it will open-up with Microsoft edge, assuming it is your default browser.
4. As the browser hijacker is still present on Microsoft Edge browser, you will still see it as an added tab. DO NOT CLICK on the hijacker tab.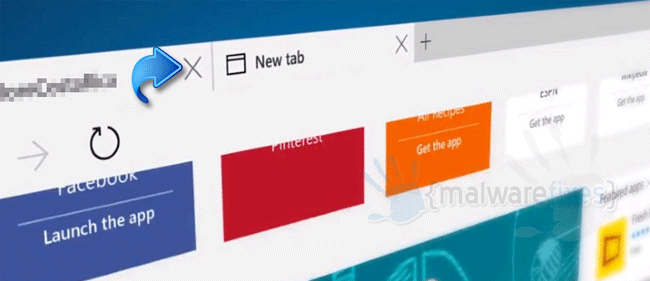 5. Click X on the offending tab to close it.
6. You must clear all browsing data by going through the procedures as stated below.
Option 3 : Clean Microsoft Edge Browser Active Directory
1. Close your Microsoft Edge browser.
2. Navigate to the following directory and delete/clear all the contents.
C:\Users\[User Name]\AppData\Local\Packages\Microsoft.MicrosoftEdge_xxxx\AC\MicrosoftEdge\User\Default\Recovery\Active\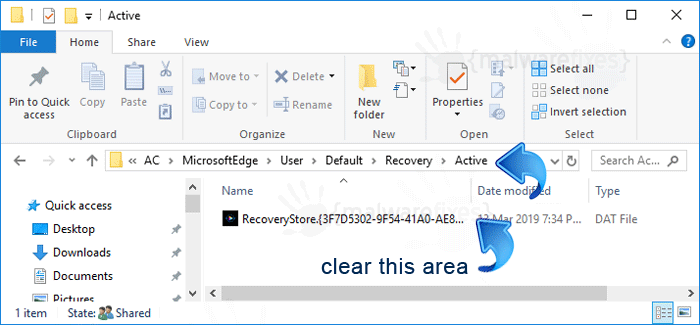 3. You may now start Microsoft Edge browser and see if the fake warning is gone.
4. Once Microsoft Edge browser starts, please clear all browsing data by going through the steps below.
Option 4 : Clean Microsoft Edge Shortcut Links
When the browser keeps opening to unknown web pages containing fake warnings and alerts, chances are that malware may have hijacked the shortcut link. In these instances, try opening the Microsoft Edge browser through the default list of All Programs. Also, checking and cleaning the shortcut links you always use to run Microsoft Edge can help resolve the issue.
1. Point mouse cursor to Microsoft Edge shortcut link icon you normally click to run the browser.
2. Right-click and then select Properties from the list.
3. Microsoft Edge browser properties will appear.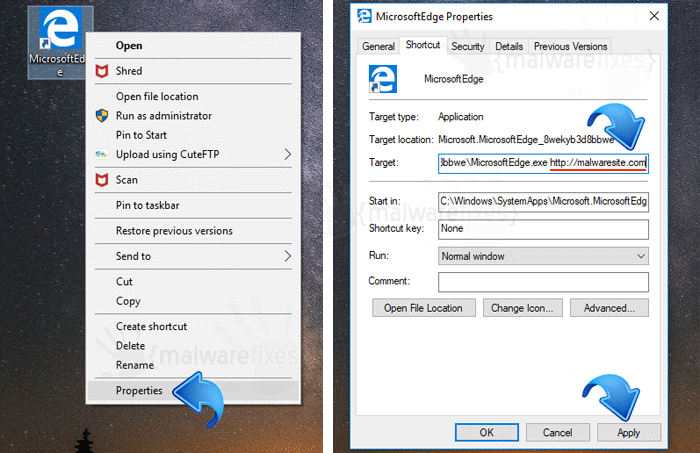 4. Under Target field, check if there are any extra strings pointing to a malicious web page. The valid shortcut link should look like this:
C:\Windows\SystemApps\Microsoft.MicrosoftEdge_8wekyb3d8bbwe\MicrosoftEdge.exe
5. Remove unnecessary strings and click on Apply.
6. Click on OK and close the current window. You may now restart Edge browser.
7. Alternatively, you can just delete affected Microsoft Edge shortcut links and create new ones by going to Start > All Programs > Microsoft Edge, right-click and click on More > Desktop (Create shortcut) or Pin to Taskbar.
8. After going through these process, you also need to clear Microsoft Edge browsing data. See complete procedures below.
Option 5 : Use Windows Task Manager to Close Microsoft Edge
1. Press Ctrl + Alt + Delete on your keyboard to run Task Manager.
2. Look for Edge under Process tab.
3. Right-click and select Go to Details.
4. Close all instances of Edge browser currently running under Details tab.
5. Cleaning browsing data after this process is a must. Follow the procedures below.
Additional Tip : Clear all Browsing Data
1. Open Edge browser if it is not running.
2. In the address bar, please type the following:
edge://settings/privacy
3. Under Settings, please go to Clear browsing data.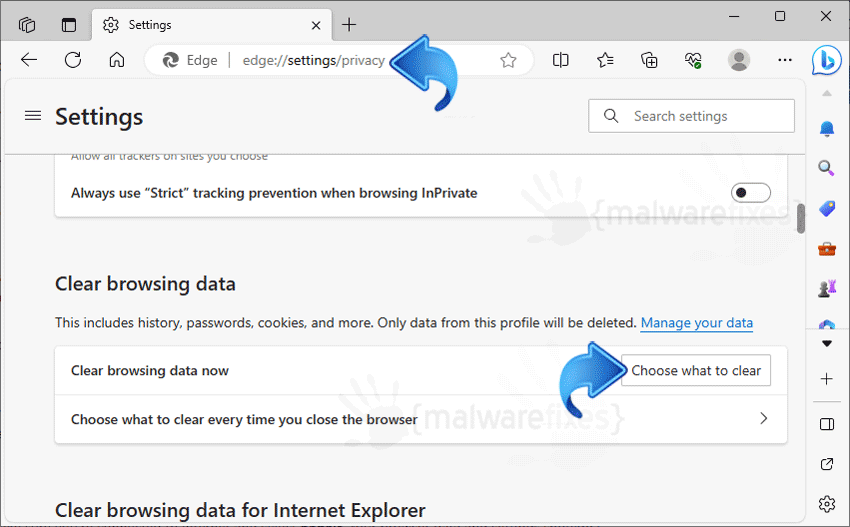 5. Click on Choose what to clear button.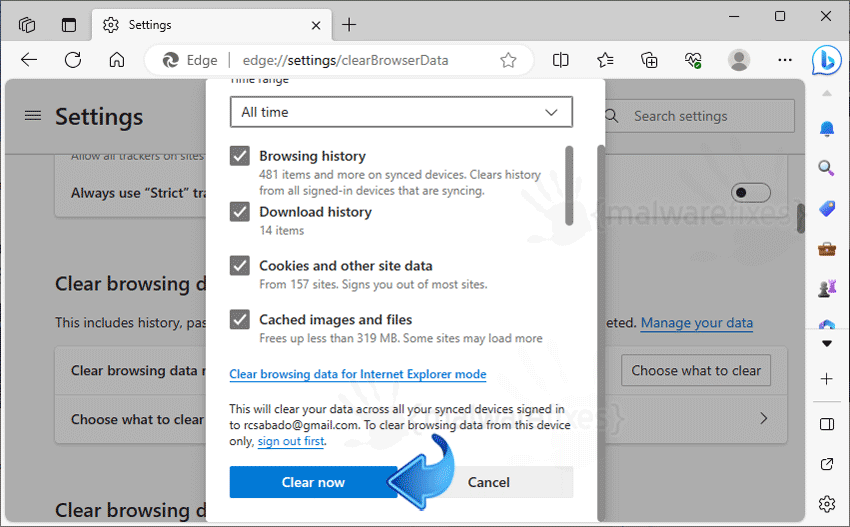 6. Please select necessary data and click on Clear Now to apply changes.
Lastly : Scan and Delete Malware
Anti-malware tool proved to be helpful in finding and deleting browser threat as the Fake Warning from Edge. This tool scans and removes threats using the most comprehensive detection method.
1. Download Malwarebytes Anti-Malware from the link below. Save the file on your hard drive.
Malwarebytes Anti-Malware Download Link (this will open a new window)
2. Once the download completes, double-click on the file MBSetup.exe to run the program.
3. Select desired option whether you are installing on Personal Computer or Work Computer.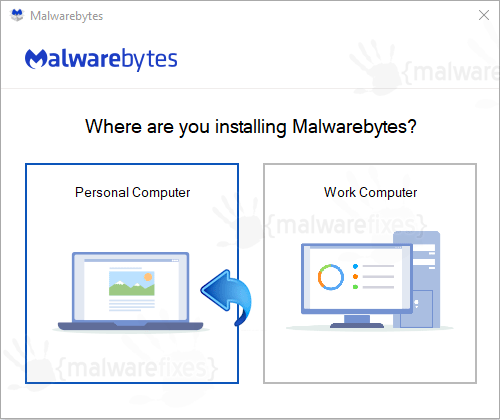 4. On next window, click on Install button to load the basic requirements to run Malwarebytes Anti-malware.
5. It it prompts for License Agreement, you must accept this and click the Next button.
6. Proceed with the succeeding prompts until you reach the window that says Installing…
7. Installation process will take less than a minute. The program should run automatically after the setup process.
8. When Malwarebytes Anti-Malware interface appears, please select Scan from menu to begin the process. The program will check for any available update before proceeding. Do not skip this step. Virus scan may take a while, please wait for the process to finish.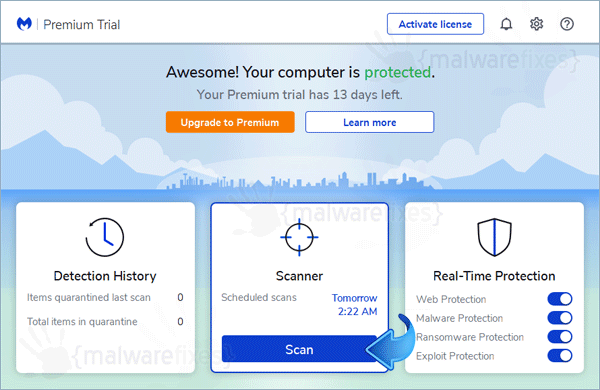 9. When scanning is done, Malwarebytes Anti-Malware will display the list of identified threats. Remove all identified threats and restart the computer to finalized the scan process.
Originally published on August 21, 2015