In recent days, Mac users are complaining of having troubles printing to their HP Printers. The worrying part is, some Mac users deemed it as computer virus infection due to daunting pop-up messages and alerts like "hpdevicemonitoring.framework will damage your computer" or ""hpPostProcessing.bundle will damage your computer".
It seems to be that the revoked credentials on some versions of old HP driver is causing the issue. At the moment, the problem is reportedly affecting users who have Mac OS Catalina (version 10.15) and Mojave (version 10.14). Because the HP software was revoked on the said variety of Mac OS, this causes rejection from the operating system and became unknown. Thus, user continues to receive message that it "will damage your computer." The same generic response when it detects strange apps like adware or malware.
Other common and notable pop-up messages appearing on the computer screen states the following:
"Commandtohp.filter" will damage your computer
"HDPM.framework" will damage your computer
"HPM1210_1130Raster.bundle" will damage your computer
"hpPostScriptPDE.plugin" will damage your computer
"Laserjet.driver" will damage your computer
"Matterhorn.framework" will damage your computer
"Fax.backend" will damage your computer."
"FaxArchive.task"…
"Hpdevicemonitoring.framework" will damage your computer
"HPDriverCore.framework" will damage your computer
"HpPostProcessing.bundle" will damage your computer
"inkjet1.driver"…
"inkjet4.driver" will damage your computer
"PDE.plugin" will damage your computer
"ProductImprovementStudy.hptask" will damage your computer
"HPSmartprint.framework" will damage your computer
"ScanEventHandler.app"…
Stopped – The file 'private/var/spool/cups/tmp/06e015f942fb1″ could not be opened
Just to give you an insight on how it greatly affects Mac users, here are some excerpts from posts on Apple Discussion pages.
HP printer problem
There are at least a couple of us who no longer can print with the new Catalina upgrade. We met on the HP help line. Seems no help from either Apple or HP for us. I have run through all of Apple and HP's diagnostics with no success. – woodchopper123
–
Sudden problem with Printing
Just tried to print to my HP Color LaserJet Pro MFP M277 DW and got a message pop up on my iMac. "hpPostProcessing.bundle" will damage your computer. This file was downloaded on an unknown date. With a tick box to Report Malware to Apple to protect others. – woodchal
–
Apple software certificate expired HP Printer
HP Deskjet D4300 Printer does not work. One or more components of the HP printing software are corrupted or missing. "commandtohp.filter" will damage your computer. Report malware to Apple. Apple reports software has expired date. Apple Software Update Certification Authority issued by Apple Software Update Certification Authority, Expired Thursday, October 24, 2019 Software update certificate is expired. I have 2 Macs and both have the same problem. – LaBoatique
–
HP Printer Problem with Catalina and download HP printer drivers
My computer is no longer talking to my HP Photosmart C7280 All-in-One. Not clear why all of a sudden I have this problem as up until a couple of days ago the printer was working just fine, and I did not see any Mac OS Catalina software update. – ITNotSavvy
–
HP software reported as malware
Suddenly I can't print. HP 2055 DN on network. Suddenly, parts of the HP driver software (seems to be files ending in .bundle) are being reported as "…will damage your computer" – nerak100
According to a retired software driver developer that goes by an alias StevePSplusB209. This is all about HP software signing certificate issue and cannot be fixed by Mac user themselves. Things need to be done by HP printer driver developer to fix this HP printing problems on Mac includes:
Re-sign the HP Utility code with a valid certificate authority from Apple.
Re-create the HP Printer installer package with updated signature or authority.
Upload the updated HP installer package on HP Support page or Mac Support website.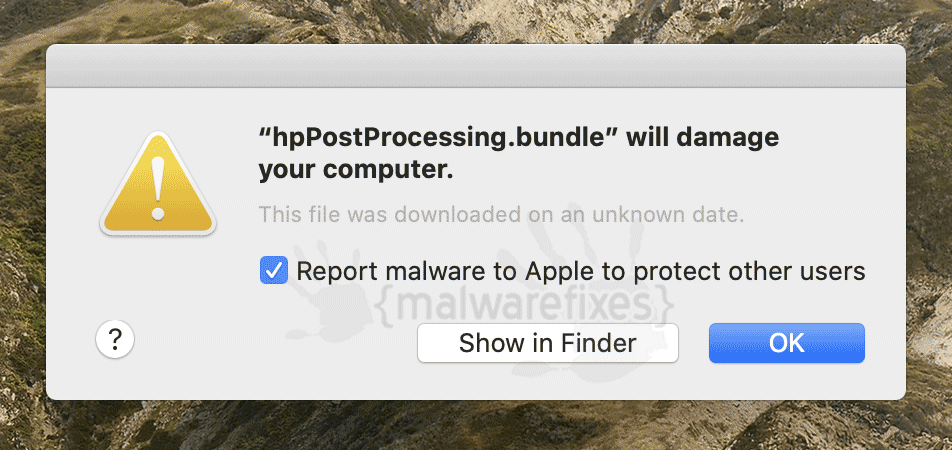 What to do?
Unfortunately, this is an issue between your Mac and HP Printer driver. All you have to do is wait until both sides resolve this problem. In addition, you can always check for updated driver on HP Printer Support official page or try your luck with the workaround below.
Solving HP Printing Error on Mac
Although AirPrint is the better alternative solution if you have issues printing due to corrupt or outdated drivers, the method only works for wireless capable printers or ones that are shared via computer network. If your setup is direct-wired printing, you may try these options as workaround to solve the issue.
Option 1 : Use HP Easy Start
1. Download HP Easy Start from the official website. Click the link below.
https://ftp.hp.com/pub/softlib/software12/HP_Quick_Start/osx/Applications/HP_Easy_Start.app.zip
2. Go to your download folder and Open HP Easy Start.
3. On your Mac menu bar, click on HP Easy Start menu.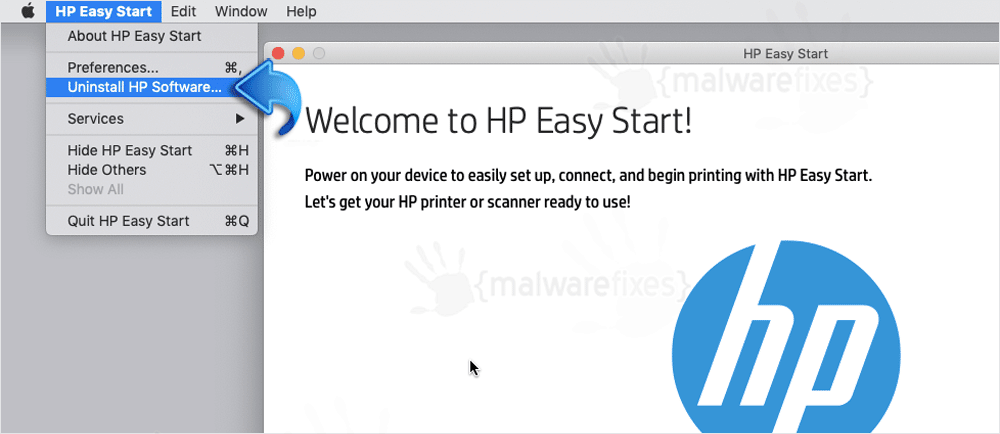 4. Select Uninstall HP Software… from the drop-down list.
5. Click on Continue button to start removing current HP printer driver.
6. After uninstalling the old HP drivers and apps, select Set Up New Device.
7. Proceed with the installation until it prompts for software download and installation.
8. Continue installing the new HP printer driver. Please restart your Mac if necessary.
Option 2 : Use HP Easy Admin for Mac OS
This Mac OS application tool enables user to download the most recent and complete version of HP printer solution.
1. Click the following link to download HP Easy Admin from official website
ftp://ftp.hp.com/pub/softlib/software12/HP_Quick_Start/osx/Applications/HP_Easy_Admin.app.zip
Mac OS may send a warning about "HP_Easy_Admin_app.zip" can't be download securely. Just click on Keep to continue downloading the file. This generic detection is normal because the file is in compressed ZIP file format.
2. Go to the folder of the downloaded HP_Easy_Admin_app.zip and extract the file.
3. Run the application and once you are in the Welcome screen, please Agree to the licensing agreement.
4. Once it shows the Download Software screen, type the printer name and model in the search box.
5. After selecting the printer, verify your Mac OS version, language, and country.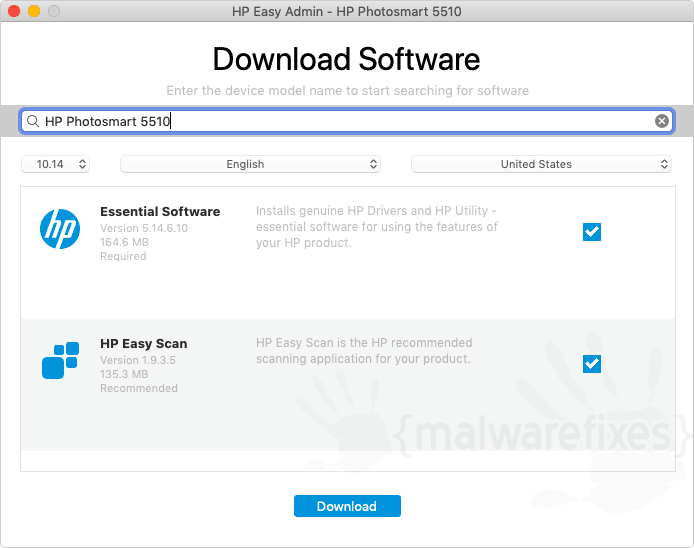 6. Be sure to include Essential Software and HP Easy Scan if your printer is equipped with scanner. Click on Download button.
7. The tool will start to download and install the most recent solution for your Mac.
Option 3 : Uninstall/Re-install HP Printer Driver
1. Open System Preferences.
2. Click on Printers & Scanners.
3. On left panel, choose the problematic HP printer and click minus (-) sign at the bottom.
4. Go to Finder and then, on the menu click on Go > Go to Folder… and input this string.
~/Library/Printers/hp
5. Drag the HP printer driver to the Trash Bin.
6. Please restart you Mac.
7. Open System Preferences once more.
8. Click on Printers & Scanners.
9. On left panel, click the plus (+) sign located on bottom left to add a printer with new and updated HP driver.
If the solution above did not resolve the HP printing problem, please try the other options below.