Google Chrome is undeniably the most popular browser to date. Therefore, it is also the favorite target of most adware and malware makers. Recent extensions we have uncovered are made specifically for Google Chrome. They intend to alter settings on the browser in order to set unwanted default home page and search engine.
If Adware or Malware is dominating Google Chrome browser, user may experience several annoyances. Aside from dubious search engine and home page, potentially unwanted program also causes pop-up advertisements and browser redirects. These are not just typical irritation, because it may contain links that can lead to more troubles like virus or malware infection.
On this article, we will guide you on how you can remove adware from Google Chrome browser in fastest and easiest way. There is no need to go through manual removal of adware extension. With just few clicks, you can get rid of Adware from Chrome browser.
Guide to Easily Remove Adware from Chrome Browser:
This procedure will help you get rid of adware and malware from Google Chrome browser in fastest way. It does not require third-party application and no complex procedure is necessary.
1. Open Google Chrome browser.
2. Download Google Chrome Cleanup Tool from the link below. This is a free and official program from Google Chrome.
Chrome Cleanup Tool Download Link (this will open a new window)
3. If the site prompts for Google Chrome Terms of Service, please click on "Accept and Download" to continue.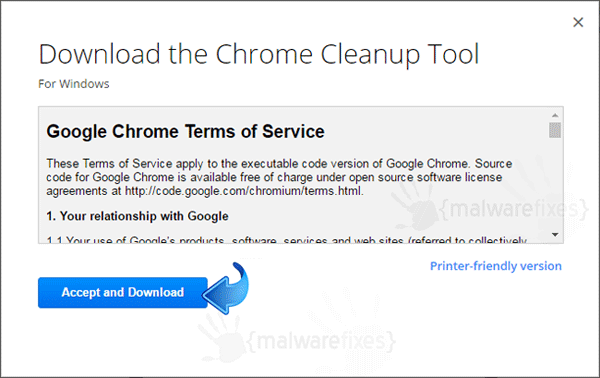 4. Save the file to a location on your hard drive. Normally, the file is saved on Downloads folder.
5. You can instantly run the program by clicking on chrome_cleanup_tool.exe either within Google Chrome browser or under Downloads folder.
6. If Windows prompt a security warning stating "Do you want to run this file?" please click Run to proceed.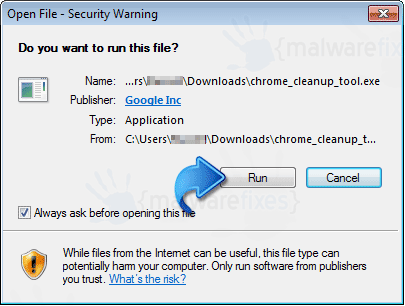 7. Do the same thing if Windows Users Account Control pop-up a confirmation window.
8. Chrome Cleanup Tool will scan the browser for known threats. Then, it will display diagnostic results.

9. On the next window, click on Continue button.

10. Next, the tool will prompt you to reset Google Chrome settings. This is vital in getting rid of adware. Please click Reset button.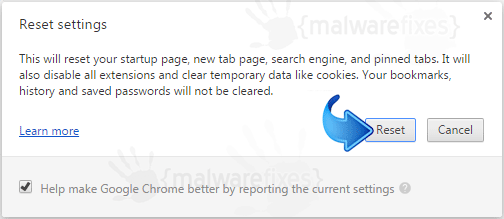 The tool will now reset Google Chrome to default settings. This will reset startup page, new tab page, default search engine, and pinned tabs. The process also disables all extensions and clear temporary data like internet cookies. Important data like bookmarks, history, and saved passwords will not be affected by this procedure.