Windows 8 systems have built-in Windows Defender to help you protect the computer from malware and other kind of threats. This tool was made to detect and remove Trojans, viruses, spyware, adware, and other types of malicious programs.
Once you start the PC, Windows Defender runs in the background and start to protect your computer. When a threat is detected, it will notify you and request to take specific action for identified security risks. Same with other anti-virus software, you can use Windows Defender to scan PC for malware if something suspicious is noticed.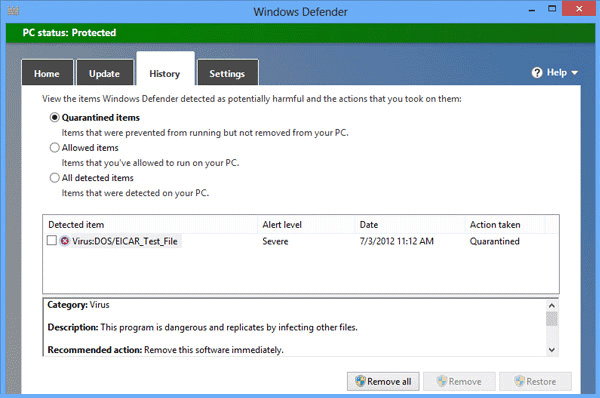 How to use Windows Defender?
Disclaimer: By downloading and using this tool, you are considered to have read the owner's disclaimer and agreed to terms and conditions as declared on the official web site.
1. Tap or click the Search Charm, search for defender, and then double-click the program to open.
2. On Home tab of Windows Defender, click preferred scan option and click Scan Now to start checking the computer for presence of malware.
Important
Windows Defender is included in Windows 8 system as replacement for Microsoft Security Essentials. You cannot use this program on lower versions of Windows. For Windows XP (SP3), Windows Vista (SP1 and SP2), and Windows 7, you can use Microsoft Security Essentials to clean viruses from the computer.