Even though your computer is equipped with a trusted anti-virus program to thwart any kind of virus infection, there is still a chance that malware can evade the security software especially if it was made to conceal itself by exploiting certain software vulnerabilities.
The majority of anti-virus and anti-malware programs are able to remove common viruses thorough normal scanning. However, if the computer is infected with an obfuscated type of virus and hard to remove threats like Ransomware, Rootkit, or Backdoor Trojan, a special method of scanning is required in order to properly remove the virus. In some cases, we even recommend disabling System Restore and run the scan through Safe Mode of Windows for a more effective cleanup. However, these complicated process can be substituted with a much straightforward approach using Microsoft Defender Offline.
Microsoft Defender Offline is an advanced virus diagnostic tool for Windows 10 that is able to perform comprehensive scanning of the computer that runs on a dedicated environment, without loading the operating system. In this method, any viruses or malware are not functional, therefore, removing them from the system is much easier and effective.
• Microsoft Defender Offline runs on Windows 10.
• Before running the Microsoft Defender Offline scan, make sure to save working files and close all the applications.
• The current login account must have an Administrative privilege in order to run Microsoft Defender Offline scanner.
• If Stop Error or blue screen of death (BSoD) was experienced during the scan process, please restart the computer by pressing Power button or Ctrl Alt Delete on the keyboard.
How to Use Microsoft Defender Offline
The guide below will help you remove stubborn virus and malware from the computer. Before you proceed, please make sure that you have read the note above. If all is set and you are ready to scan the computer using Microsoft Defender Offline, you may execute the following steps:
1. On Start menu, type Virus and threat protection on the Search field and click the result to open.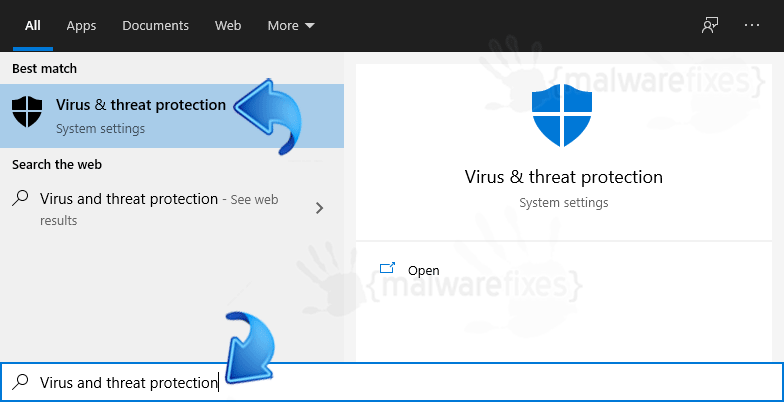 2. Under the Current threats section, click on Scan Options.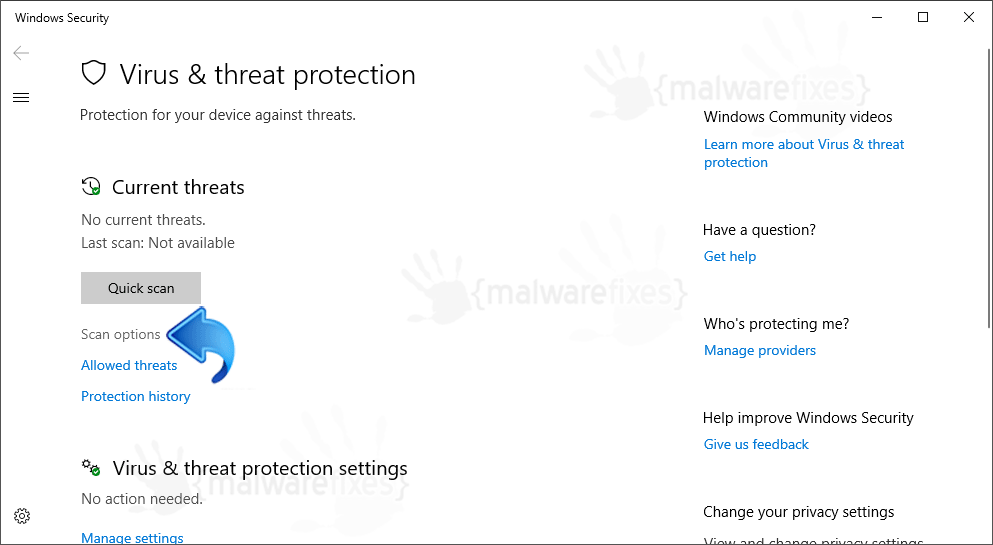 3. On Next window, please select Microsoft Defender Offline Scan.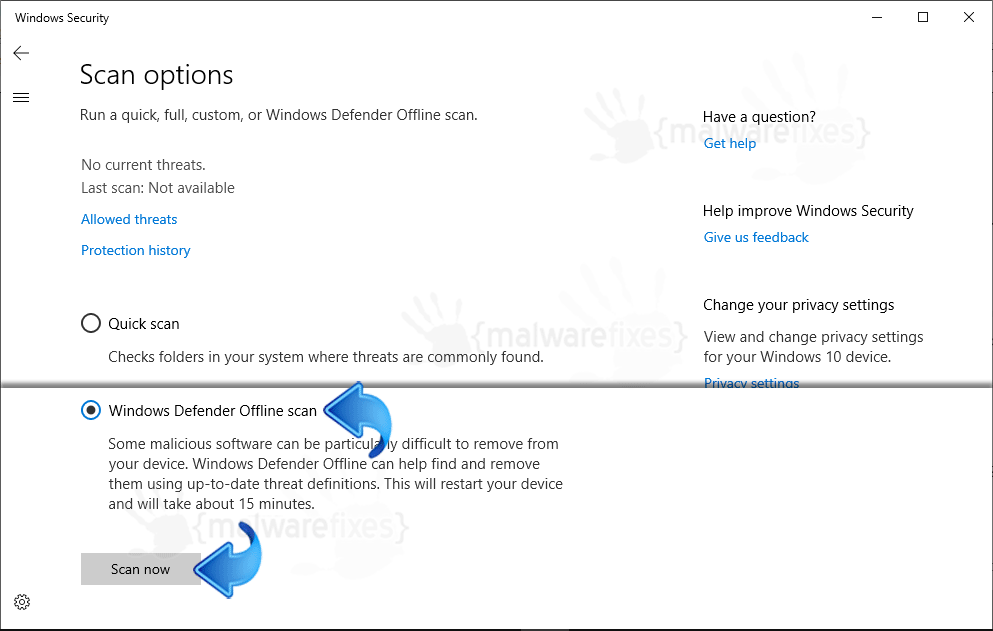 4. Then, click the Scan now button.
It will prompt that user must sign out of Windows. Then, the computer will restart. It will boot up and perform the virus scan in recovery environment where viruses and malware are unable to load.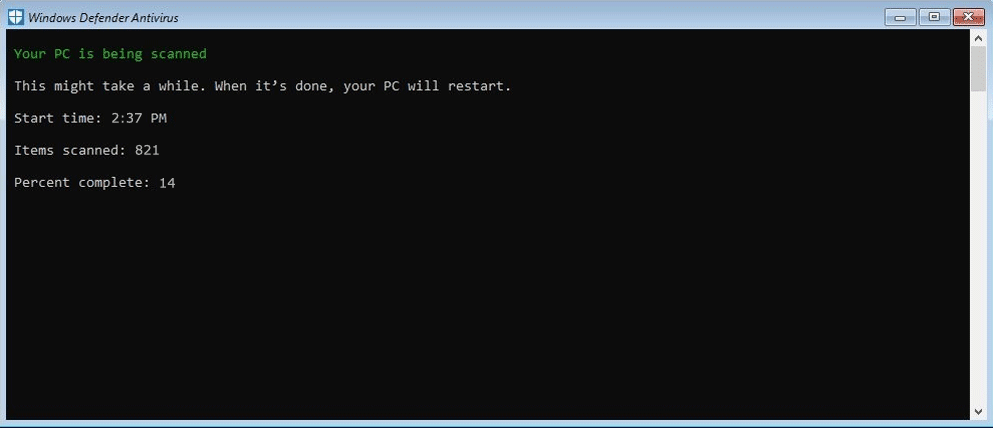 During the boot-up process, it may stay in the "Windows Defender Antivirus" loading sequence for a couple of minutes, this is just normal because the program may still be processing the updates that were previously downloaded. When you see "Your PC is being scanned," it indicates that the program is starting to check for virus presence and removes it automatically when detected. This scanning process may take a while. Just let Microsoft Defender Offline finish the scan. It will reboot the computer in normal mode after the clean-up procedure.
Viewing the Scan Result
After completing the when it boots the computer in normal mode. You can view the scan results by executing the steps below.
1. On Windows Start menu, search Virus and threat protection and click the result to run the program.
2. Once you are in Virus & threat protection window, click Protection history.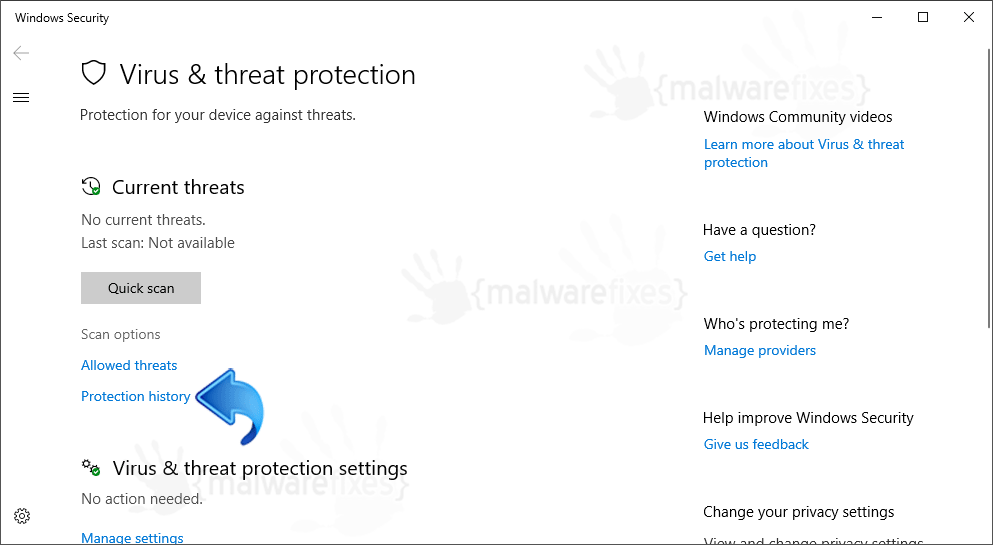 3. The Protection history window will show the list of viruses that has been detected and removed from the computer. Also, it will display additional scan actions and recommendations when necessary. You must proceed with these extra steps to ensure the computer is complete clean.
This scan process was run on Windows 10 operating system. For older versions such as Windows 8.1 and Windows 7 computers, you may view the Microsoft's recommendation here.