Sophos knows that viruses, malware, and rootkits are nightmare to every computer users. They can harm the PC, degrades system performance, and steal sensitive data. These are the reasons why the company is providing this free tool – to find and delete these nasties out of your computer.
Sophos Virus Removal Tool is handy and portable. It can run alongside with your installed security product without a conflict. In fact, this tool is efficient in finding and removing threats that your anti-virus fails to detect.
Rootkit scanning and detection is part of Sophos' free virus removal tool. The tool can scan, detect and removes any hidden rootkit on the computer with its sophisticated rootkit detection mechanism.
We can say that this program is a complete solution to remove any forms of viruses and malware inside the computer. However, please be reminded that Sophos Virus Removal Tool is not a replacement to your anti-virus program. Components of this tool are purely for virus removal and do not cover protection.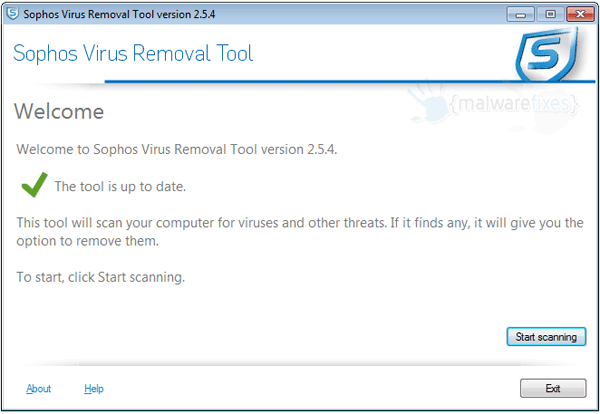 Download and Installation
Disclaimer: By downloading and using this tool, you are considered to have read the owner's disclaimer and agreed to terms and conditions as declared on the official web site.
1. Download the tool from the link provided below. Save the file on your hard drive.

You can also download Sophos Home Free (This will open in a new window)
2. Install the program using default settings. Please do not change anything on the configuration.
3. It may prompt for "End User License Agreement". Please choose "I accept the terms in the license agreement". Then, click Next to proceed.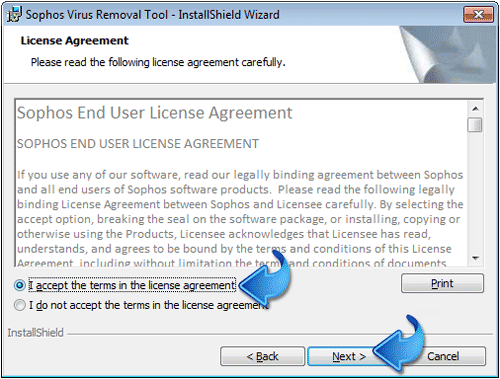 4. Once installation completes, Sophos Virus Removal Tool will update the database to most recent version.
5. Begin checking the computer for viruses by pressing the button Start Scanning.