With the release of Windows 10 and Microsoft Edge browser, it seems that many computer users are being attacked by a fake technical and online support scam. The malware behind these malicious web pages is able to alter certain settings in order to lock or freeze Microsoft Edge browser. In the end, some computer users choose to go along with the screen instructions.
Fake web pages and false alerts
As of this date, computer security forums are flooded with queries about the removal of the malware that locks and freezes Microsoft Edge. Normally the web page acts as if it is a legit technical support site willing to give help to troubled computer users. On some instances, the web page simulates a fake online scanning scheme and issue false findings. Then, it will prompt user to call the provided technical support number in order to get help from their team.
What to do when Edge freezes?
When your Microsoft Edge browser is locked by a malware and you can do nothing to navigate away from that page, there are several tricks you can try to resolve this issue. First and foremost, you must disconnect the infected computer from the Internet to cease the communication from a remote server where the malware is receiving commands. Once you have successfully found a way to close Microsoft Edge, you must scan the computer with a combination of anti-malware and anti-virus program. This ensures that no more malware will bugged your browser again.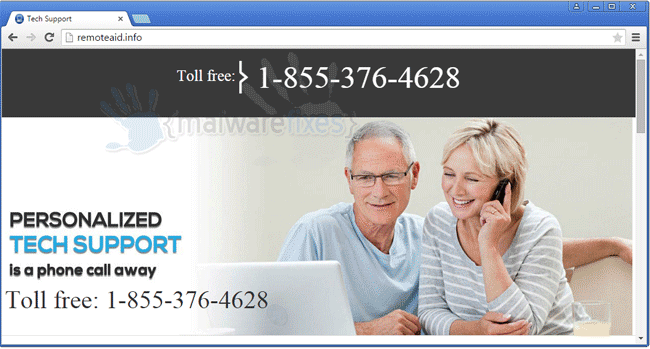 Ways to Remove Fake Technical Support Scam from Microsoft Edge Browser
There are several options on these procedures which you can execute to resolve the problems from your computer and Edge browser.
Option 1: Terminate Internet Connection
To be able to process the loop when hijacking your home page or tabs, malware constantly communicates to its server. This also gives the hijacker to execute whatever script is used for the loop. Thus, you must cease the communication between Microsoft Edge and the remote malware server.
1. Unplug your Ethernet or LAN connector if you are on a wired network.
2. Turn off your Wi-Fi Modem or Disconnect your if your Wireless access PC is connected on a wireless network.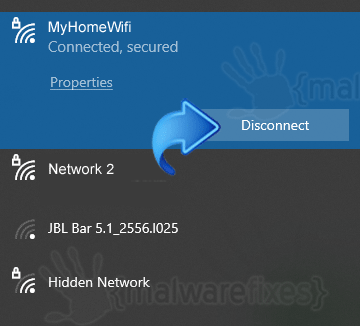 3. Close Edge browser. If this is not possible, repeatedly hit Esc on the keyboard or click OK/Cancel button on the fake technical support window.
4. Activate Airplane mode.
a. Click your Network/Internet Settings icon on the taskbar (bottom right of your screen).
b. Settings window will open. Choose Network and Internet.
c. Look at the left column and click on Airplane mode.
d. Turn on Airplane mode using the control on the right panel.
5. Launch Edge Browser and close the offending tab.
6. Lastly, please clear all browsing data by going through the steps below.
Option 2: Open Microsoft Edge via Favorite Links
1. Restart Windows 10 (do not open Microsoft Edge browser).
2. Go to your Favorites folder. Typically it is on this location:
C:\Users\[Your Username]\Favorites\
3. Under the favorite folder, double-click on any URL and it will open-up with Microsoft edge, assuming it is your default browser.
4. As the browser hijacker is still present on Microsoft Edge browser, you will still see it as an added tab. DO NOT CLICK on the fake technical support tab.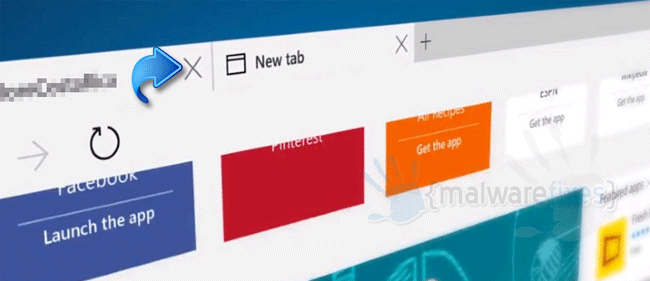 5. Click X on the offending tab to close it.
6. You must clear all browsing data by going through the procedures as stated below.
Option 3 : Delete Active Directory of Edge Browser
1. Close your Microsoft Edge browser.
2. Navigate to the following directory and delete/clear all the contents.
C:\Users\[User Name]\AppData\Local\Packages\Microsoft.MicrosoftEdge_xxxx\AC\MicrosoftEdge\User\Default\Recovery\Active\
3. You may now start Microsoft Edge browser and see if the fake warning is gone.
4. Once Microsoft Edge browser starts, please clear all browsing data by going through the steps below.
Option 4 : Clean the Shortcut Links of Microsoft Edge
When the browser keeps opening to fake technical support web site, chances are, malware may have been hijacked the shortcut link. In these instances, try opening Microsoft Edge browser through the default list of All Programs. Also, checking and cleaning the shortcut links you always use to run Microsoft Edge can help resolve the issue.
1. Point mouse cursor to Microsoft Edge shortcut link icon you normally click to run the browser.
2. Right-click and then select Properties from the list.
3. Microsoft Edge browser properties will appear.
4. Under Target field, check if there are any extra strings pointing to a malicious web page. Remove unnecessary strings and click on Apply.
5. Click on OK and close the current window. You may now restart Edge browser.
6. Alternatively, you can just delete affected Microsoft Edge shortcut links and create new ones by going to Start > All Programs > Microsoft Edge, right-click and click on Send > Desktop (Create shortcut) or Pin to Taskbar.
7. After going through these process, you also need to clear Microsoft Edge browsing data. See complete procedures below.
Option 5 : Use Windows Task Manager to Close Microsoft Edge
1. Press Ctrl + Alt + Delete on your keyboard to run Task Manager.
2. Look for Edge under Process tab.
3. Right-click and select Go to Details.
4. Close all instances of Edge browser currently running under Details tab.
5. Cleaning browsing data after this process is a must. Follow the procedures below.
Lastly : Clear all Browsing Data on Edge Browser
1. Open Edge browser if it is not running.
2. Click "More actions" (represented by …) at the top right corner of the browser.
3. Select Settings from the drop-down list.
4. Under Settings, please go to Clear browsing data.
5. Click on Choose what to clear button.
6. Please select necessary data and click on Clear to apply changes.