Resetting Internet Explorer settings to its default state is one method that works well when dealing with adware, potentially unwanted program, browser hijacker, and malicious extensions. This method will restore the browser to original setup when it was first installed on the computer.
We all know that malware successfully gains control of Internet Explorer by making certain changes on the configuration. One example is its ability to modify home page settings so that user will have an unknown default startup page. Search engine can also be replaced by malware simply by altering the default setup. All of these changes can be made by malware unknown to user.
To have a clean browser once again, you must supersede all changes made by malware. Doing a reset on Internet Explorer is the first thing to do when cleaning up your browser. However, please bear in mind that once you reset Internet Explorer, there is no way to reverse the changes and all current settings will be lost.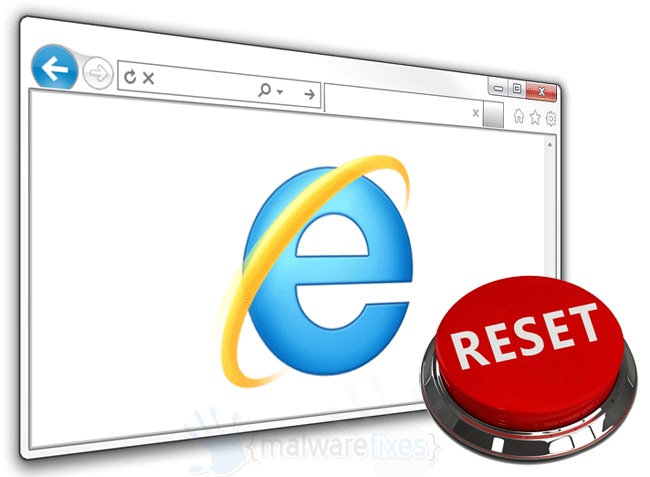 Steps to Reset Internet Explorer Settings
Several options are provided to restore Internet Explorer to its default settings. There is no harm in trying all the choices, however, for quick and hassle free procedure, we recommend downloading and running Microsoft Fix It tool. If the tool didn't work or is not compatible with your version of Internet Explorer, you can use the other method.
Option 1 : Reset browser settings within Internet Explorer
1. Start Internet Explorer browser program.
2. Navigate to Tools menu and click on Internet Options.
3. Once Internet Options dialog box appears, click on the Advanced tab.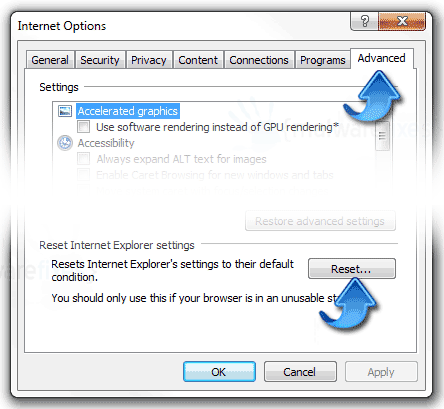 4. At the bottom of the box, you can see 'Reset Internet Explorer Settings' area. Click on Reset.
Please take note of the message: Resets Internet Explorer's settings to their default condition. You should only use this if your browser is in unusable state.
5. Close the dialog box and restart Internet Explorer browser.
Option 2 : Reset Internet Explorer Settings from Control Panel
This method is advisable to carry out if you are having problems opening Internet Explorer browser.
1. Go to Windows Start, and then click on Control Panel.
2. Click on Network and Internet from the Control Panel window.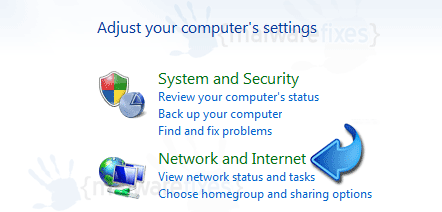 3. When you are already in Control Panel\Network and Internet area, click on Internet Options.

4. Once Internet Options dialog box appears, click on the Advanced tab.
5. At the bottom of the box, you can see 'Reset Internet Explorer Settings' area. Click on Reset.
Note: If you get an error message while performing the procedures above, try closing Internet Explorer and restart Windows. Proceed with the procedure once Windows starts.
Option 3 : Totally Reset Internet Explorer with Microsoft Fix It 50195
Another way to automatically reset Internet Explorer settings is through the use of software provided by Microsoft. Fix It 50195 is specifically designed to restore the default home page, search providers, and other main configuration on Internet Explorer.
1. Click this link to download Fix It 50195. Microsoft declare this tool as discontinued.
2. Run the tool as soon as downloading is done.
3. On initial launch, the tool will present you with License Terms. Be sure to mark I Agree. Click Next to proceed.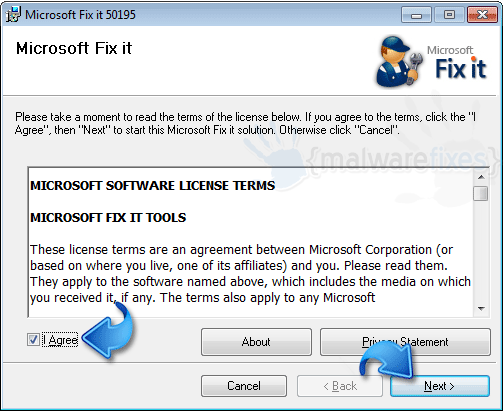 4. The tool will create a Restore Point to save your current configuration of Windows. Then, it will display settings window.
5. Put a check mark on Delete Personal Settings and click Reset button to give you a fresh copy of Internet Explorer.