Computers such as PC or Mac are not just the only system that is being targeted by the so called "Pop-up Virus" or in technical terms adware. Android system on mobile devices is also suffering from this pop-up virus and most users are annoyed with this aggressive type of advertisements.
It is obvious that the purpose for showing pop-ups on Android devices is simply for promotions and marketing. On some occasions, it was also utilizes for traffic referral to drive Android users into visiting predefined websites. The purpose may be reasonable but the results are unfair to Android user as these pop-ups are too annoying and causes total distraction to ones online browsing.
How Pop-up Virus Infects Android Devices?
There are couple of reasons why Android devices is being hit by the pop-up virus and just like the usual cause, Android users may have been careless when browsing the internet or unwise when downloading apps.
Adware Installation – Some cases of pop-up virus on Android devices are caused by the installation of adware that are bundled to maliciously modified APK files. Attackers intentionally alter the base code of the legitimate APK file and integrate the adware script so that it pop-ups a predefined advertisements once user is online.
Allowed Push Notification – So far, most Android users who are experiencing the pop-up have accidentally permit the push notification that prompts when paying a visit to certain websites. This push notification feature of browsers programs were meant to deliver alerts and updates to users. However, adware makers and intrusive websites are taking advantage of this push notification feature to send repetitive ads on the browser.
Types of Android Pop-up Virus
So far, we only recorded two kinds of pop-ups that frequently appears on Android devices. Both were found to be an unfair online marketing strategy that digital hoodlums are employing to aggressively promote a product or drive traffic to a client's web site.
Fake Virus or Security Warning Pop-up
This kind of pop-up normally exhibits an alert or notification that Android device is under virus attack or update is required to thwart certain infection. The purpose of this fake virus pop-up on Android devices is to persuade users into purchasing a promoted application. Normally, bogus security application makers are the ones that are perpetuating this kind of aggressive pop-ups on Android devices.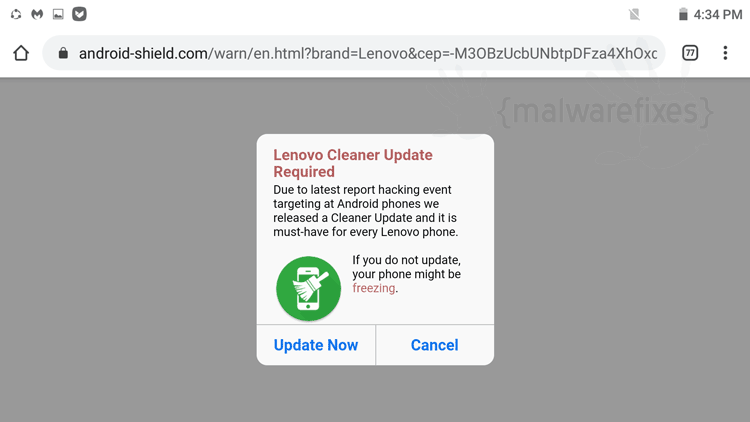 Notifications Pop-up
The setup with this simple notifications pop-up is very similar to what PC and Mac users are receiving whenever they visit sites that are involve in software or media piracy. It aims to trick Android users into allowing the pop-up notification from the culprit website by displaying the following messages:
(website) wants to send you notifications
Press "Allow" to watch the video
Press "Skip" to close the Ads
Press "Allow" to close this window
The stated pop-up messages are just click-baits that will result to a single action when clicked, and that is to permit the display of push notification from the requester website.

Pop-up Virus Prevention
It is stated that aggressive pop-ups showing up on Android devices were set off by visiting malicious websites or downloading APK from questionable sources. Therefore, simply ceasing these risky actions will prevent the pop-up virus infection on Android mobile devices as well as Chrome browser. In addition, properly configuring the browser program settings on how to handle these pop-ups may also help. Hence, it is not a 100 percent assurance. Even third-party pop-up blockers for Chrome or any browser do not have full guarantee in stopping unwanted pop-ups on Android devices.
Automatic Removal of Pop-up Virus from Android Devices
This guide to eliminate pop-up virus from Android device requires the downloading and installation of Anti-malware tool. Scanning the device with this security application will not only remove the pop-up but also delete any harmful items and viruses on Android system, Chrome, or any internet apps.
1. Go to Google Play Store and download Malwarebytes.
2. Install the program and tap the Open button when done.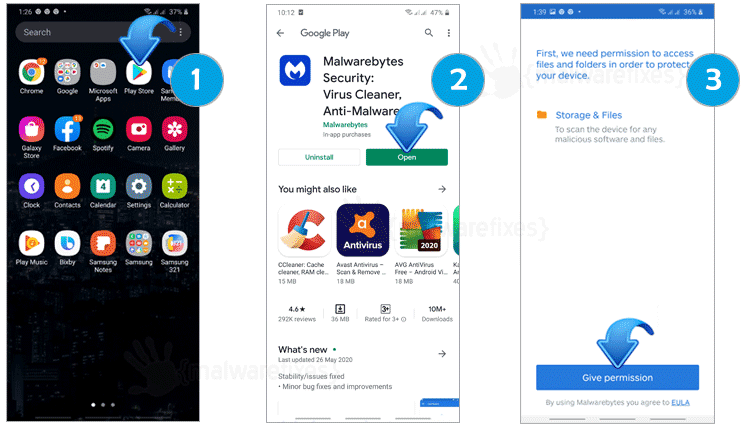 3. Proceed with the initialization and allow the program to access Storage and Files if prompted.
4. On scan console, please tap Scan Now to start checking Android device for adware, malware, or viruses. This will also check Chrome and other internet programs.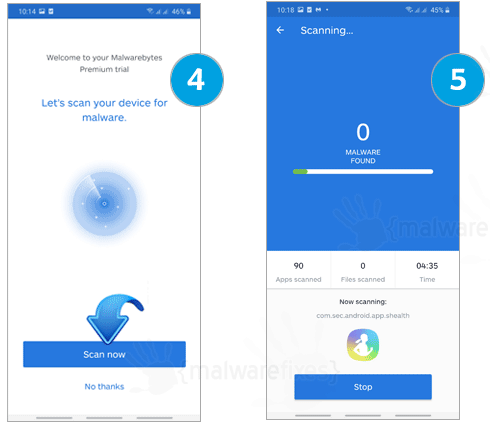 5. Thoroughly scanning the Android device will take a while, please wait for the process to finish.
6. After the scan, Malwarebytes will display the result. Please Remove/Quarantine all identified threats and restart the Android device to finalized the removal of pop-up virus.
Stop Android Pop-up Virus via Chrome Settings
1. Open Chrome and tap on ellipses icon (3 dots) on top right section of the window.
2. Select Settings from the drop-down list.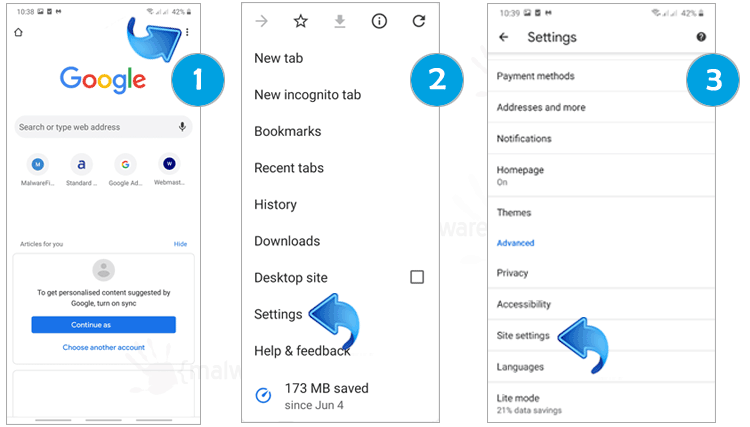 3. Once you are on Settings page, tap on Site Settings.
4. Next, tap Notifications.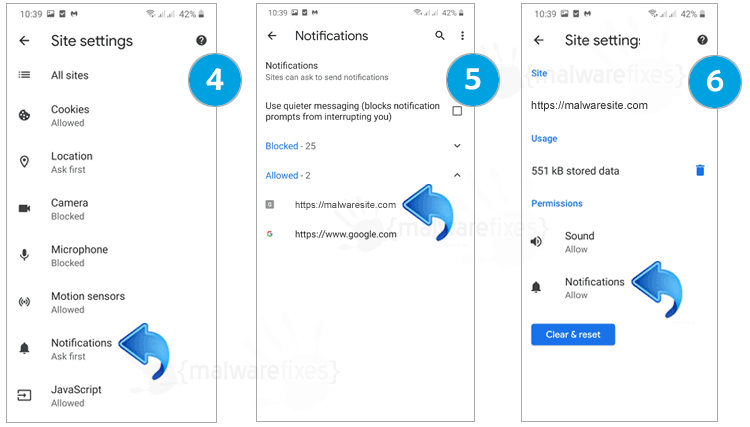 5. The Notification window will reveal the list of Blocked and Allowed sites on Chrome. If the URL of the pop-up virus is listed here, please tap on it.
6. Next, proceed to Permissions area and tap the Notifications (currently set to Allow).
7. Change the permission via slider (Allow to Block) to stop the pop-ups from the unwanted website.
8. You may now restart Chrome browser on your Android unit.
Block Pop-ups via App Settings
Procedures on this section will allow you to block pop-ups and notifications that are produces by certain Android programs like Chrome or any internet software and apps. If the pop-up is not originating from Chrome browser for Android, just choose the offending app (step 3) from the list and disable the pop-up by executing the given instructions.
1. Go to device Settings.
2. Then choose Apps to see all default apps and permission manager.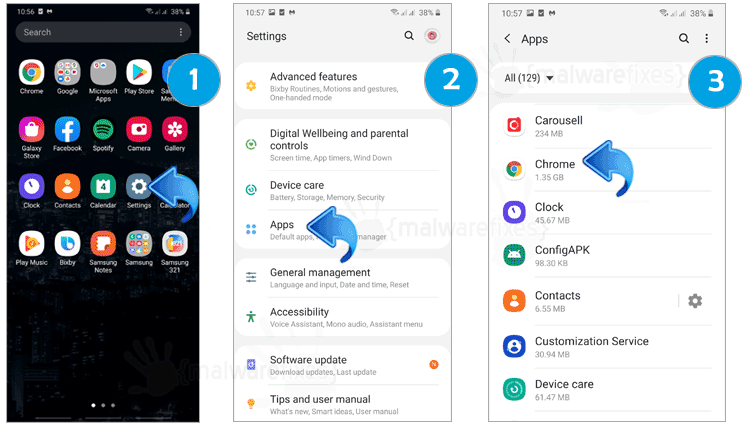 3. Select Chrome app from the list.
4. Under the Apps Settings section, tap on Notifications.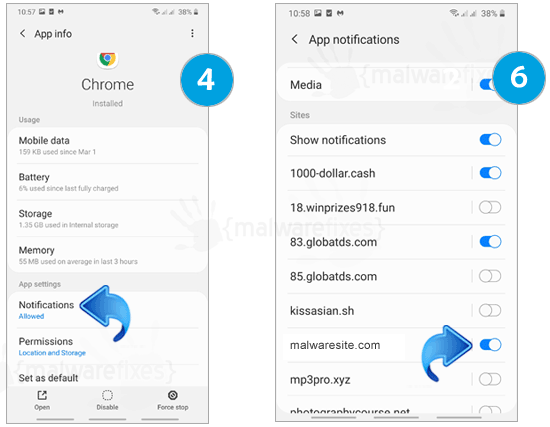 5. On App Notifications window, navigate to lower section until you see Sites that were allowed to display notifications.
6 Look for the offending website's URL and use the slider to disable the notification, which causes the pop-ups on your Android device.