ESET Rogue Application Remover targets hard to remove malware such as fake antivirus or any bogus programs that has infected a computer. This tool is also capable of reverting changes made by the malware on the system. ESET Rogue Application Remover removes not only malicious files but invalid Windows registry entries as well.
Fake programs, also known as rogue or scareware is nasty application designed to make profit by making use of deceptive techniques. It will display various alerts, warnings, and fake scan on the computer to make it look like that it is severely infected. In order to proceed with the cleanup, rogue program will demand user to purchase the paid version first.
During the presence of rogue program, user will have difficulty in operating the PC including all software installed in it. Malware have full control of the infected machine in order to force users into buying the registered version. Most antivirus programs are not equipped to deal with this issue. This is where ESET Rogue Application Remover can be very useful. Since it is a stand-alone application, it can work flawlessly with your antivirus programs.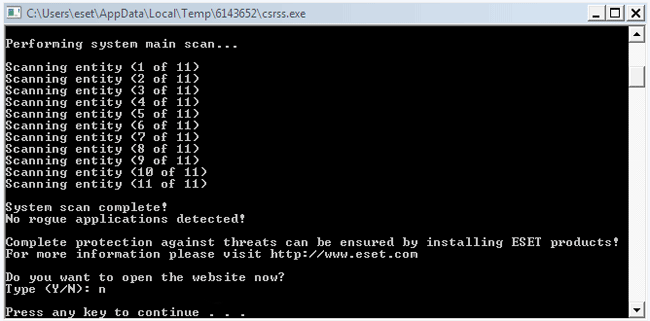 ESET Rogue Application Remover was created to identify and delete all malicious items belonging to fake antivirus and other sorts of malware. This efficient tool is provided by ESET as Freeware and can be downloaded from their official web site.

Download and Usage
Disclaimer: By downloading and using this tool, you are considered to have read the owner's disclaimer and agreed to terms and conditions as declared on the official web site.

1. Get ESET Rogue Application Remover from the link provided below.
32-bit Version – https://download.eset.com/special/ERARemover_x86.exe
64-bit Version – https://download.eset.com/special/ERARemover_x64.exe
2. Save the file to your Desktop.
3. Once download completes, navigate to the file location and right-click on the downloaded file. Select Run as administrator.
4. Proceed with the installation and scan the computer thoroughly.