Avast Browser Cleanup helps you remove annoying toolbars, browser hijacker and redirect from popular Internet browsers like Internet Explorer, Google Chrome, and Mozilla Firefox. Its powerful mechanism is effective to uninstall adware component completely from the affected computer. In times that you are unsure whether or not to remove the add-on, Avast has a function to just disable it. Disable just switches the functionality of the add-on and you can enable it when necessary.
These days, freeware or shareware are flooding the web. Computer users preferred this type of distribution because it is costless and there are wide varieties of programs to download. Without their knowledge, it comes with unwanted code which normally affects internet browsers. This is called adware, the main income-generating method for the developer. Adware intends to exhibit ads whenever you surf the web. It could also redirect search page to unwanted one. Moreover, adware are known to integrate a toolbar into the browser that similarly earns profit by endorsing products and services.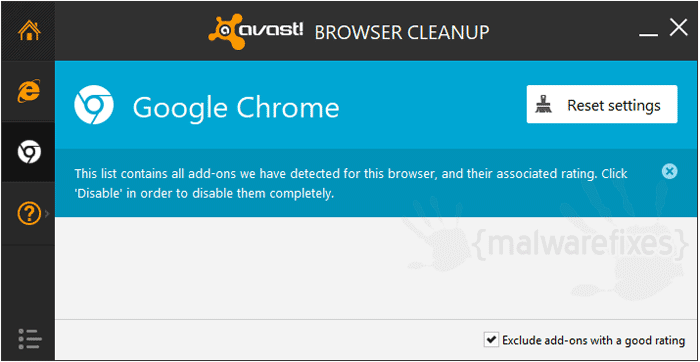 Avast Browser Cleanup helps you find these adware even if they are placed deep into the system. This tool can automatically remove what it sense as 'bad' add-on or extension. For suspicious entries, Avast Browser Cleanup gives you an option whether to remove or disable them.

Download and Usage
Disclaimer: By downloading and using this tool, you are considered to have read the owner's disclaimer and agreed to terms and conditions as declared on the official web site.

1. Get the tool from the link provided below.
Download from avast! Website : https://files.avast.com/files/tools/avast-browser-cleanup.exe
2. Double-click on the downloaded file to execute the program. It immediately scans the computer for presence of adware and other unwanted add-on or extension. Remove identified items and restart the browser.