AdwCleaner is a computer security tool that was designed to find and delete adware, unwanted toolbar, browser hijacker, and potentially unwanted programs. This tool is a stand-alone program that finds and removes recent infections of adware and other unwanted applications. AdwCleaner also detects if a browser hijacker is controlling the web browser by checking current settings.
AdwCleaner specifically targets adware that were installed on the computer without user's approval. We are talking of adware that is commonly bundled with freeware such as Internet speed booster, download manager, multimedia players, and free games. Upon installing such program, users are unaware that adware will also be installed without seeking for their permission. Unless you do custom installation of the downloaded program, you will no option of rejecting the adware.
Normally, affected browser will see signs of adware presence right away. Toolbar is added to the menu that contains redundant buttons and links. Home page is also affected. Instead of the usual default setup, affected browser will utilized a custom search engine as assigned by the adware.
With the help of free AdwCleaner from Malwarebytes Team, you can easily remove many variants of mentioned computer disorder. Scanning the computer and deleting harmful entries will make your Internet browsing more safe and efficient.
Download and Usage
Disclaimer: By downloading and using this tool, you are considered to have read the owner's disclaimer and agreed to terms and conditions as declared on the official web site.

1. Obtain the most recent copy of AdwCleaner from its official web site.
Download the file from Malwarebytes
2. After downloading, browse for file location and double-click on adwcleaner.exe.
3. AdwCleaner instantly start the program. To begin scanning the computer, click on Scan button.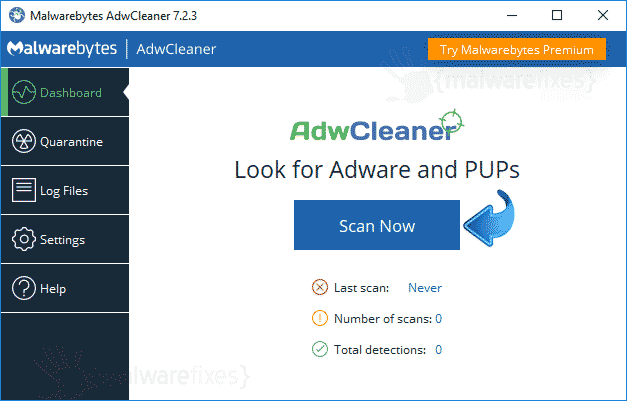 4. After the scan, this tool will log the result on a .TXT file. You can view the contents by opening the file via Notepad later.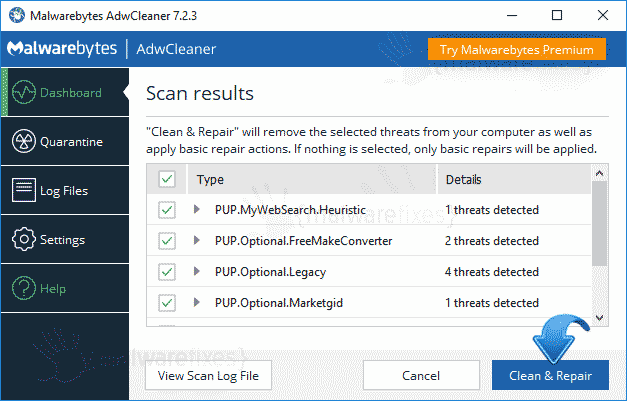 5. To start removing identified adware, click on Clean & Repair button.
6. Please restart the computer after the cleanup process.