If you frequently browse the internet, you could consider installing the Seekonlinenow.com browser extension because it promises to deliver quick results. Additionally, Seekonlinenow.com asserts that having a dedicated search page will improve users' online browsing and search experiences. However, it appears that this is not enough to qualify as a dependable browser extension. Some internet users find some aspects of seekonlinenow.com problematic.
Seekonlinenow.com hijacker
The abrupt arrival of Seekonlinenow.com on users' internet browser applications is one issue that bothers internet users. It enters the computer unauthorized and without permission since it is frequently accompanied by shareware or freeware. The most popular way used by the creators of Seekonlinenow.com to infiltrate a computer and silently access a specific internet browser application is probably the software bundling technique.
Most browser hijackers, like Seekonlinenow.com, are typically bundled with free downloadable programs like utilities, productivity tools, download assistants, media players, video converters, and so on. Seekonlinenow.com also launches on the browser program as an Extension if a user downloads and installs the carrier application. If that occurs, it will take control of internet programs, causing strange changes to the homepage and search settings. Both will use Seekonlinenow.com as their default search engine and site address.
A malicious ad campaign is another channel used by Seekonlinenow.com in addition to fraudulent software bundles. This may be a bit pricey, but adware developers benefit from it in two ways: in addition to promoting Seekonlinenow.com, they also fool people into installing the program by using misleading page content.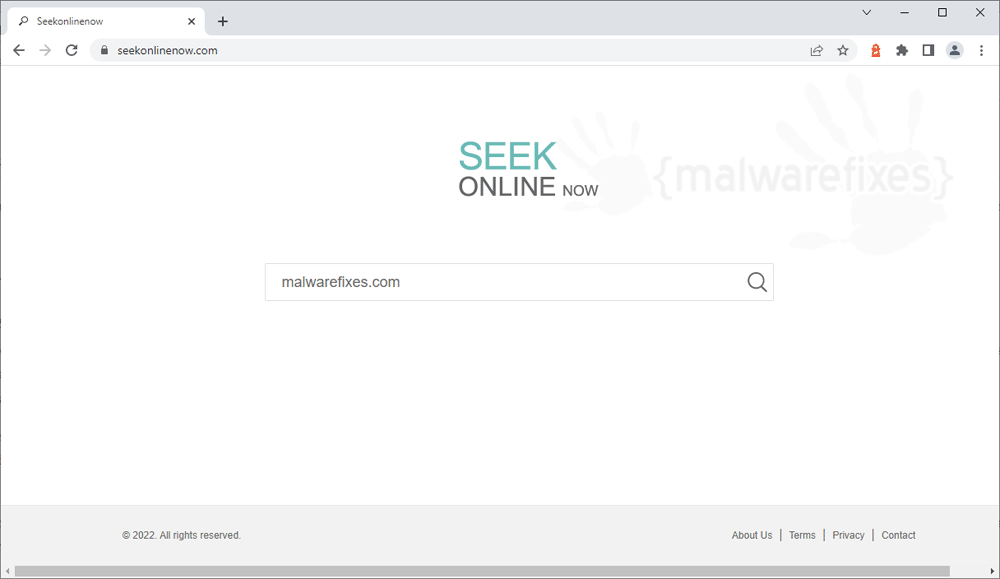 Harmful effects of Seek Online Now
This potentially unwanted program (PUP) is more than just a malicious browser extension. In addition to dominating web browser software, it also has the negative task of being used for Seek Online Now creators' personal gain. The redirection of web pages to websites people do not plan to visit and the continual display of advertisements on the browser are both examples. The only people who earn from these obtrusive promotions are the writers of Seek Online Now.
Seek Online Now was created to monitor web users' browsing activity and record details including search terms, favorite websites, individual preferences, and personally identifiable information such as user names, passwords, and IP addresses. The online offender uses the data to provide targeted advertisements and attempts to trick visitors into visiting a number of harmful web pages that were specifically created to appeal to them.
In conclusion, despite being marketed as a helpful browser extension, users do not benefit in any way from installing Seek Online Now into their browser program. In actuality, the Seekonlinenow.com search hijacker is what causes problems with browsers. To prevent further harm and identity theft, computer security professionals advise removing this browser extension.