Browser that involves in aggressive pop-ups and redirects of Kromtech.net website may be under the control of malicious code or probably Adware. In this case, the questionable applet is possibly embedded inside the internet application and kick offs browser redirects from time to time if it sense that Mac computer is connected to internet, or whenever user is surfing the web.
The specific Kromtech.net site that frequently appears on the compromised internet browser program like Google Chrome, Safari, Mozilla Firefox, or Safari was made to promote a suspicious system optimization and security program called MacKeeper. Obviously, people behind the Kromtech.net are the same group that handles the questionable tool and they are relying on this browser redirect scheme as additional deployment method.
Apart from this malicious advertising campaign, MacKeeper is also found to be bundled to various freeware or shareware that are hosted on several websites. This scheme can easily load the rogue tool onto computer if user executes the free software. The same thing also happens when web user click on any button presented on Kromtech.net.
Although Kromtech.net website states that it only runs "free cleanup analysis", what user may obtain are not just tools but also malicious codes that from time to time will show up on the browser, promoting MacKeeper or any similar questionable system optimizer and security product.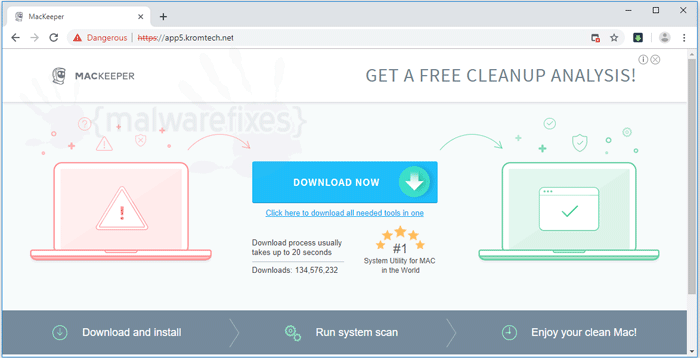 Various Mac users' complaints about this intrusive pop-ups emerging from various sub domains as app4.kromtech.net, app5.kromtech.net and app6 third level domain. Fortunately, the originating sub domain is irrelevant with the removal steps we are providing on this page. Use the procedures to remove the pop-up whether it is from Kromtech.net or any invasive web sites that keeps on bombarding the browser with various redirects and pop-ups.